Effortless Moving with Top Movers and Packers in Dubai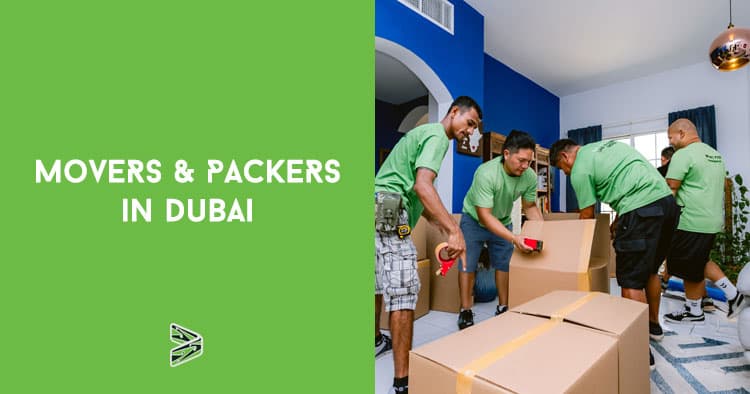 Have you ever faced the monumental task of shifting homes in Dubai? The endless boxes, that stubborn sofa refusing to fit through the door – it's enough to give anyone a headache. Imagine if a savior could alleviate the pressure of moving house in Dubai.
Professional international movers and packers are like wizards with bubble wrap and packing tape, turning chaos into neatly stacked piles ready for transit.
Do you ask: "How much would it cost you?", "What separates packers from movers?", and most importantly, "Is hiring them worth your hard-earned money?"
We will cover essential topics, like how to create lists for these pros, understanding Dubai's tipping culture, and if they can assist you in sorting out your stuff.
How much does it cost to move to a 3-bedroom house in Dubai?
Moving a three-bedroom house in Dubai isn't just about boxing up belongings and transporting them. It's an intricate process that involves careful planning, packaging, and handling. And the cost? Well, let's unravel that mystery.
The price tag for moving such a residence can fluctuate significantly based on several factors like distance, the amount of stuff you've got tucked away, and the specific services you need from your movers and packers in Dubai.
A ballpark figure? You could be looking at anywhere between AED 1,500 to AED 4,000+. This is quite reasonable when compared with global standards – but remember, it hinges heavily on individual circumstances.
Mac Pack Dubai provides insights into average costs associated with moves across varying distances. If budgeting has been keeping you awake at night or if money matters, make your head spin faster than a fidget spinner — this resource might help.
Packing materials are often extra; they're not usually part of initial quotes from furniture movers.
You may also have additional charges for special items – think pianos or art pieces needing extra care during transit.
Last-minute bookings can hike up prices, too. Plan to avoid premium rates.
Remember that moving service costs vary depending on specifics. Do thorough research before making any decisions.
What is the difference between packers and movers?
You may be under the impression that 'packers' and 'movers' are simply alternative terms for the same service, but they have separate functions when it comes to relocating. The terms are often used interchangeably when talking about movers in Dubai, yet there's more to it.
Packers are professional home movers who come into your home before the move to safely package all your belongings. They're skilled at using bubble wrap, packing paper, and other materials to ensure items make it through transit without damage.
Movers are responsible for more than just shifting boxes from one place to another; they can also disassemble furniture and navigate tricky staircases with large items.
While both jobs overlap somewhat (and many companies offer both services), understanding their differences can help you plan better when preparing for a big moving process.
How much does moving cost in UAE?
The cost of moving to the UAE is largely dependent on several factors, such as the size and distance of your move, plus any extra services required. These include the size of your move, distance traveled, and additional services you might need like packing or furniture assembly.
If we're talking about a standard 3-bedroom house move within Dubai city limits, it's reasonable to expect prices starting from AED 1,500. This is just an estimate. Every move is unique and has its associated costs.
Why such a wide range? Let's think of it like ordering coffee. You could get a simple black coffee for one price but adding extras – almond milk or flavored syrup – will increase the bill. The same goes for moving.
Packing service adds an extra fee.
Heavy furniture is another add-on cost.
This isn't designed to give you an accurate idea about moving company Dubai prices. With proper planning and budgeting based on these factors, your move should go smoothly without breaking the bank.
Are packers worth it for moving?
When you're preparing to move, the question "Are the movers and packers near me really necessary?" may come up. You might think packing is straightforward – a simple case of placing items in boxes. However, packing is a more intricate process.
Packers are trained professionals who know how to properly wrap, secure, and box various household goods. From your grandmother's china to bulky furniture pieces; they've got it covered. They can help ensure your belongings arrive at their new home unscathed.
Mac Pack Dubai, a professional mover and packer company, offers an efficient service tailored towards minimizing disruption during moves.
Moving without hiring professionals means juggling multiple tasks simultaneously: acquiring packing materials, organizing logistics, and lifting heavy objects which could lead to injury if not done correctly. These responsibilities consume time and energy better spent elsewhere like settling into your new place or tying loose ends before the move.
Hiring professional movers reduces stress levels associated with moving significantly.
Their expertise saves you from potential damage costs due to improper handling or packaging.
You save time.
When pondering about doing all or getting some help, remember this saying — 'Penny wise, pound foolish'. Save where needed, but don't skimp on services for peace of mind & efficiency.
Do packers and movers pack clothes?
The answer is yes. Most professional packers and movers, including us at Mac Pack Dubai, help pack clothes when moving homes.
Packing can be a daunting task, but our team of professionals makes it hassle-free. We sort garments based on their type – casual wear, formal attire, or delicate fabrics – before we fold them into special wardrobe boxes.
We understand that you might have valuable pieces in your collection. We take extra care to protect these items during transit using high-quality garment covers. This method keeps your favorite outfits free from dust and wrinkles.
If you prefer DIY packing for personal reasons, don't worry. Our friendly staff will give you tips on how to fold different clothing items without damaging them.
This level of attention extends beyond just clothes as well. Every item receives the same degree of meticulous care from our trained personnel. Remember: if you're overwhelmed by the prospect of moving house in Dubai — relax. With experienced movers like us handling everything for you, there's no need for stress.
How do I make a list for movers and packers?
Making a checklist when hiring the best movers in Dubai can simplify your moving process. This is based on my experience of shifting homes multiple times in Dubai.
Your Personal Inventory
Create a list of the things you need to move, categorizing them into furniture, kitchenware, and electronics as well as any outdoor items. Group them into categories like furniture, kitchenware, or electronics.
Packing Supplies Needed
Identify what packing supplies you'll need. These include boxes, bubble wrap, and tape among others.
The Moving Day Plan
Lastly, jot down details for the moving day: date and time preferences plus special instructions.
Here's a handy guide that elaborates further on this topic.
Why hire professional packers and movers?
Hiring professional movers and packers isn't just about moving stuff. It's more than that. It's a wise decision for those looking to relocate without the stress, fuss, or broken belongings.
Professional teams have expertise in packing items with care. They use high-quality materials to protect your things during transit. So you don't end up opening boxes of shattered memories at your new place.
But what about heavy furniture? You're right; it's tough. This is where furniture mover services come into play, lifting hefty objects safely without straining your back.
A pro team can handle bulky items like a champ.
No damage was caused by DIY attempts at maneuvering through tight spaces.
You get peace of mind knowing everything will arrive intact and on time due to their experience handling similar tasks.
If you think hiring professionals is expensive, consider this: Time spent packing could be used elsewhere productively while avoiding potential costs from damaged goods due to poor packing techniques if done yourself.
Making Moving Simple
The aim is to make relocation easy. By hiring pros, you get efficiency plus safety combined – all within reasonable prices compared to the potential risks involved in doing it solo. This makes going pro an absolute no-brainer.
Do you tip movers in Dubai?
Tipping is a customary practice worldwide to show appreciation for services rendered. But when it comes to tipping a furniture mover in Dubai, the situation may be different.
In many parts of the world, including some areas within the UAE, tipping service providers like movers isn't mandatory but good etiquette. It's a token of gratitude for their hard work and diligence during your move.
The amount you choose to give depends on various factors such as the complexity of your move or how satisfied you are with their services. There aren't any strict rules regarding this – it's discretionary.
Considerations When Tipping
Dubai's culture can influence how tips are perceived by service workers. Some might see it as an unnecessary addition while others view it as generous recognition of efforts to make your relocation smoother.
FAQs About Movers and Packers in Dubai
How much do movers and packers cost in Dubai?
The cost of movers and packers in Dubai can vary significantly depending on several factors, including the size of your home, the distance of the move, the specific services you require, and the moving company you choose. Some moving companies offer professional movers and packers services in Dubai from around AED 1,000 to AED 3,000.
How much does moving cost in UAE?
The cost of moving in the United Arab Emirates (UAE) can vary widely based on several factors, including the size of your home, the distance of the move, the specific services you require, the time of year, and the moving company you choose.
For local moves within the same emirate, such as moving within Dubai or Abu Dhabi, costs typically start at approximately AED 1,000 to AED 3,000 for a 1-bedroom apartment; while the cost of moving between emirates will be considerably higher ranging from AED 5,000 to AED 15,000 or more, depending on the distance and services required.
How much does it cost to move to a 1-bedroom apartment in Dubai?
On average, for a local move within Dubai, you might expect to pay between AED 1,000 to AED 3,000 or more, depending on the size of your new location.
If you handle the move yourself, the rental cost ranges from AED 200 to AED 500 daily, depending on the size of the vehicle and the duration of your rental.
How much does it cost to move furniture in Dubai?
Furniture relocation charges fluctuate based on quantity and distance. Typically, they hover around AED 300-1500.
Conclusion
Achieve an effortless moving process when you entrust your relocation to the top movers and packers in Dubai. These professional moving companies offer a level of expertise, efficiency, and safety that transforms what can be a daunting process into a smooth and hassle-free experience.
With their meticulous packing and quality service, careful handling of your belongings, and well-organized logistics, you can rest assured that your possessions are in safe hands.
Moreover, top local movers and packers in Dubai offer comprehensive moving services that not only save you time but also provide cost-effective solutions when compared to the potential risks and expenses associated with a DIY house shifting or local moves. Their competitive pricing, along with the convenience they offer, makes the decision to hire a moving company an obvious choice for those planning a move to Dubai.
Effortless moving isn't just about transporting your possessions; it's the seamless transition to your new life and workspace. When you choose top professional movers and packers in Dubai, you are making an investment in a stress-free, smooth, and efficient moving process. So, whether you're moving your home or office, getting the professional services of these experts, ensures that your moving journey to a new destination in Dubai is marked by simplicity, comfort, and peace of mind.