Seamless Relocation: The Best International Movers in Dubai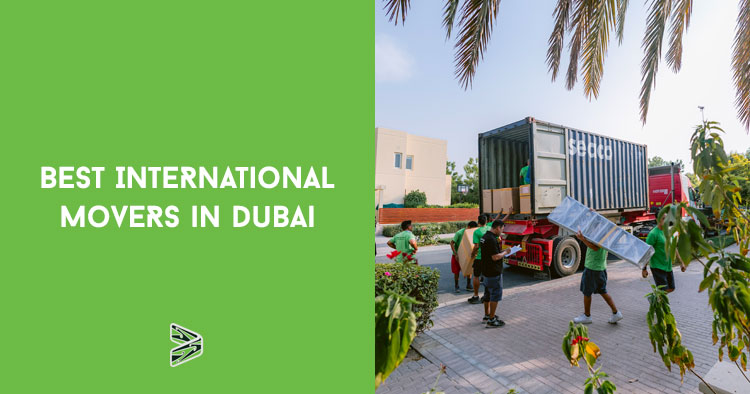 Have you ever been caught in the whirlwind of moving homes? The hustle and bustle, the frantic packing, it's enough to drive anyone mad! But imagine having to find an international movers company. Daunting, right?
This isn't just about boxing up your life into neatly labeled cartons and bubble-wrapping your fragile dreams; it's a complex process that needs precision planning.
Mac Pack will help you navigate these choppy waters easily.
We'll delve into cost considerations when moving furniture or an entire apartment in Dubai, how international movers work their magic, and how you choose one.
You'll learn everything from crunching numbers with an international moving cost calculator to picking out cream-of-the-crop villa professional movers in Dubai.
How much does it cost to move furniture in Dubai?
The price of moving furniture in Dubai can vary, depending on a few factors. One key aspect is the volume of items you're looking to move. Don't fret; there are numerous economical choices available.
If you're moving a single piece, such as a sofa or dining table, prices usually start around AED 150 (£30). For more extensive relocations involving multiple pieces of furniture, costs may rise to several thousand dirhams. Every job is unique, and quotes will differ accordingly.
Another element impacting the price tag is whether your relocation involves tricky maneuvers; think of spiral staircases or narrow doorways. These complications often call for additional resources that might add to the final bill.
In choosing who'll handle your precious possessions with care while also offering value for money, Mac Pack, one of the international movers and packers in Dubai stands out from the crowd because they balance quality service with competitive pricing brilliantly.
Getting an accurate quote tailored to your needs rather than relying on rough estimates online is always recommended. It's about getting peace of mind knowing variables have been considered.
How much does it cost to move into a 1 bedroom apartment in Dubai?
Moving costs can be as varied as the city of Dubai itself. Several factors influence the final price, including distance, packing needs, and additional services.
Furniture movers in Dubai typically charge based on volume or weight. The moving services fee could be between AED 1,000 and AED 3,000 for a one-bed dwelling.
This estimate includes services like loading, transport, and unloading. If you need help packing your belongings or dismantling furniture, that will bump the total.
The impact of distance
Moving within city limits is generally more affordable than relocating further into other Emirates regions. Some moving companies may also add charges for lifts or stairs at either location.
Packing costs: an extra consideration
If you need assistance wrapping things up (literally), this will incur extra fees but save loads of effort. there's plenty of articles about moving houses in UAE that offer tips about packing efficiently while keeping expenses down.
How much do movers cost in Dubai?
The price of hiring the best movers in Dubai can vary greatly. Several factors, like the size of your move and distance traveled, impact this cost.
A small studio relocation within city limits might set you back around AED 800 to AED 1,500. For a larger home with three bedrooms, expect costs from AED 3,000 up to AED 5,000 or more depending on specific requirements such as packing services or special handling for delicate items.
If you're moving internationally from Dubai then brace yourself for higher charges. International moves typically start at about AED 10k but could rise steeply based on many variables like destination country and shipment volume.
These are rough estimates — actual prices may differ due to other elements not considered here like insurance coverage and extra services required. It's always wise to get several quotes before deciding on one service provider.
Talk directly: Reach out directly to potential movers so they can assess your needs accurately rather than giving a generic quote online.
Negotiate: Moving companies often have some flexibility in their pricing; don't hesitate to negotiate.
Evaluate carefully: Be wary if a company's offer is significantly lower than others – it could mean hidden fees or poor quality service waiting down the line.
Are there companies that help you move abroad?
Moving to a new country is thrilling, but it can be complex. You'll need professional movers who understand international relocations. Villa movers in Dubai, like Mac Pack Dubai, are experts at this.
Mac Pack has extensive experience with global moves and offer comprehensive services such as packing, storage, and pet relocation.
Why choose an international moving company? Look for companies that are well-versed in the laws of different countries which makes customs clearance easier for your goods.
They also should have partnerships with shipping lines and airlines around the world ensuring safe delivery of your items.
Their expertise extends beyond just shifting boxes, too; from arranging insurance coverage for your valuables to managing paperwork — these experienced team of professionals take care of everything so you can focus on settling into your new home.
An understanding of international customs regulations.
Packing skills tailored toward long-distance transit.
In-depth knowledge of various modes of transport available globally.
You might wonder how expensive this could get. It depends on many factors, such as distance and volume, but most moving companies provide free quotes after assessing your needs. Before making a decision, make sure to ask questions you may have about the costs involved.
What do international movers do?
Movers and packers in Dubai, such as Mac Pack, are lifesavers when moving internationally. They take care of the intricate details involved with moving items securely from one nation to another.
Firstly, they will pack your belongings safely for transport. This includes using quality packing materials and techniques that ensure your items arrive at their new home undamaged.
Mac Pack, for instance, has an experienced team that can handle everything from furniture to fragile objects.
Once everything's packed up, these companies arrange transportation. This could be by air or sea depending on where you're going and what you need moved. They make sure all necessary paperwork is completed so your stuff clears customs without a hitch.
Packing belongings securely
Organizing transportation
Filing important documentation
Hiring professionals takes a lot of stress because your move is handled efficiently by an experienced team who've done this countless times.
How do I choose an international moving company?
Picking the best international movers in Dubai can be tricky. It's crucial to get it right because your belongings matter.
You need a company that values transparency and provides clear costings. Hidden charges are no fun when you're starting a new chapter abroad.
Look for companies with stellar customer reviews on platforms like Google or Trustpilot. Feedback from others who've been there and done that is priceless.
Credentials are key
A mover's reputation isn't just about online chatter; they also need industry recognition. Membership with the International Association of Movers (IAM) shows they're respected by peers.
The nitty-gritty details
To make sure your move goes smoothly, check what services each firm offers. Some handle everything — packing, transport, customs clearance – while others might not.
Your needs first
The best movers will listen carefully to understand your requirements before offering tailored solutions. This level of service makes all the difference in making your move stress-free and successful. Mac Pack Dubai, for example, excels at this personalized approach.
Is international moving expensive?
The cost of an international move is like the price tag on a new car — it varies greatly. Factors such as distance, weight of belongings, and extra services can impact the total cost.
An international moving cost calculator can give you a ballpark figure. But remember, every move is unique, and this should be an estimate rather than a final quote.
Key cost factors
Moving from Dubai to another country? You'll need to consider these three key factors:
Distance: The further you're going, the more you'll pay. This covers transport costs and customs duties.
Bulk & Weight: Heavier items require more resources to shift which adds up in terms of expenses.
Auxiliary Services: Need packing or unpacking help? Extra services mean extra fees but also ensure peace of mind during your transition abroad.
Saving money on your move
You might ask yourself if there are ways to save money while ensuring quality service. Absolutely. Here's how:
Throw what's unnecessary: The less stuff moved means less cash spent.
Pick your season wisely: Avoid peak times (like summer) when prices surge due to demand.
Planning: Planning allows you to explore cost-saving options. Booking your move well in advance can help you secure better rates.
How do international moves work?
Moving internationally isn't just about packing your belongings into boxes. It's a complex process involving several steps, each crucial for a successful relocation.
The first step is usually finding the right international relocation companies. This can be done by researching online, asking friends or family who have moved before, or using comparison sites to get free quotes from multiple companies.
Once you've chosen a company, they'll assess your home and give an estimate based on factors such as the volume of goods and destination country. After this, planning starts; deciding what items will move with you and which will stay behind.
Packing comes next — professional movers use high-quality materials designed to protect your possessions during transit. Customs paperwork also needs to be completed accurately to avoid any hold-ups at borders.
Your belongings are then loaded onto either shipping containers for sea freight or pallets for air freight. Upon arrival in the new country, a customs clearance follows, then delivery to your new residence where unpacking begins.
FAQs about the Best International Movers in Dubai
How much do movers cost in Dubai?
The cost of moving services in Dubai can vary, depending on factors like distance and amount of goods. On average though, expect to spend between AED 1,000 and AED 4,000.
How do I choose an international moving company?
Choosing the right international moving company in the UAE is a critical decision when planning an international relocation. Some of the steps in choosing the best international moving company in the UAE are first, to research and gather recommendations, explore online resources where you can find reviews and testimonials from people who have used international moving service providers in the UAE, check licensing and accreditation, check on the insurance coverage, check on the moving services they offer, get multiple quotes, and the quality of packing materials.
Are there companies that help you move abroad?
Absolutely. Mac Pack International Removals specialize in assisting people to relocate overseas smoothly.
Which is the best moving company in the world?
When choosing the best moving company, it's essential to consider factors such as the specific services you require, your destination, your budget, and the reputation of the company. Additionally, reading reviews and obtaining quotes from multiple companies can help you make an informed decision. The "best" moving company is one that aligns with your unique needs and ensures a smooth and successful relocation.
Conclusion
Choosing an international moving company is crucial, as they are well-versed in international customs regulations and have partnerships with shipping lines and airlines worldwide, making customs clearance and safe delivery of your items more manageable. They handle everything from packing to arranging transportation, making your move stress-free.
To select the best international movers in Dubai, look for transparency, clear costings, and stellar customer reviews. Industry recognition, such as membership with the International Association of Movers (IAM), is also a positive sign. Tailored solutions and personalized approaches to your needs make all the difference in a successful and stress-free international move.
The cost of an international move can vary significantly based on factors like distance, weight, and additional services. Saving money is possible by decluttering before the move and choosing a less busy season for relocation.
International moves involve multiple steps, from choosing the right company, assessment, planning, packing, customs paperwork, transportation, customs clearance, and delivery to your new residence. Research and preparation are key to ensuring a successful international relocation.