Your Essential Guide: Moving Internationally with Pets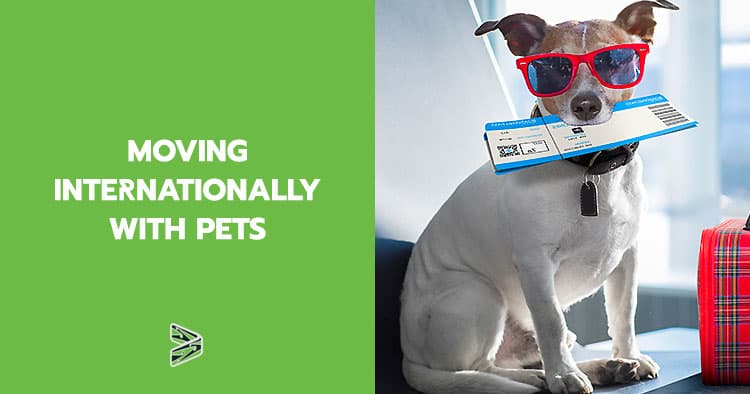 Ever felt the sting of saying goodbye to your furry friend as you set off for an international move? Ever wished they could just pack their little bags and join you on this grand adventure?
Moving abroad is daunting enough, but adding a pet can seem like juggling flaming torches while riding a unicycle. This guide promises to ease that circus act, transforming it into more of a walk in the park (one where Fido gets to come along).
We'll be exploring how pets can travel internationally with you. We'll cover topics such as flying with dogs on Emirates, figuring out the costs of sending Spot skyward, and understanding if Tiddles will take well to long-haul flights.
So, buckle up — or should we say, 'attach leader'?
How can I take my pet internationally?
Moving your furry friend overseas isn't as simple as booking a flight. It needs careful planning and preparation.
The first step is to check the specific pet travel regulations of your destination country. Some places need pets to be microchipped, while others may ask for certain vaccinations or health certificates.
Contact an airline that offers pet-friendly services. Not all airlines let pets travel in the cabin; some require them to fly in the cargo hold instead.
If this sounds like too much hassle, consider hiring professional pet relocation services. They handle everything from paperwork to transport arrangements so that your pet's journey is smooth and stress-free.
Mac Pack Dubai, one of the best international movers in Dubai, has vast experience with international pet relocations.
You could also use online platforms such as Pets Abroad UK, which gives detailed information about global pet travel rules.
A good rule of thumb is always prioritizing your four-legged family member's comfort throughout their trip.
Does Emirates Allow Pets in Cabin?
If you're planning to fly with your pet, it's crucial to know the airline's policies. For those pondering "Does Emirates allow pets in the cabin?", we've got some important information for you.
The short answer is no. But don't fret. This doesn't mean your furry friend can't travel with you at all on Emirates. They are more than welcome but will have to be transported as cargo due to their strict safety protocols.
This may sound daunting, but there are measures in place that ensure their wellbeing throughout the journey. In fact, they'll be taken care of just like any other passenger.
They get special containers that provide comfort and security during transit.
Pets remain under constant supervision by trained staff members.
You can even track them using a unique ID number provided upon check-in.
Flying internationally with a dog in cabin seems complicated initially, but airlines like Emirates strive to make this process as seamless as possible for both pets and owners alike.
How much does it cost to fly a dog internationally?
Flying your beloved pooch across the globe can be a pricey affair. Costs vary based on several factors, including the size of your pet and the destination country.
The initial costs for international pet shipping are related to pre-flight preparations. Getting your pet examined by a vet, ensuring they have the required immunizations, and obtaining an international health certificate are usually priced from £150 to £300. These procedures typically range from £150 to £300.
Then there's the actual flight cost, which hinges largely on airline policies. Some airlines charge by weight, while others have fixed rates for pet travel in cargo or cabin (if allowed). The International Air Transport Association suggests prices may fall between £200 – £1,500.
Beyond these charges, you might also need help from professional pet relocation services for logistics support, such as customs clearance at the end of the journey. No price is too high when it comes to our four-legged family members' comfort.
Can cats survive long flights?
Cats, like people, have unique temperaments and health conditions. Some may find a lengthy flight stressful, while others might cope better. But overall, yes — with proper preparation and care, your feline friend can handle an international journey.
Firstly, it's vital to consult your vet before making travel plans. They can give personalized advice based on your cat's health status and behavior patterns. This ensures that you are well informed about potential risks involved in air travel for pets.
Moreover, choosing a reputable pet relocation service is essential when moving to Europe with a cat or any other destination worldwide. Mac Pack Dubai, for instance, offers tailored solutions that prioritize the comfort of your furry companions during transit.
Prepare a suitable carrier that meets airline standards.
Adequate hydration and food supplies must be provided within the carrier.
Sedation should only be used, if necessary, as recommended by professionals such as those at International Cat Care.
Proper planning helps make sure our whiskered pals reach their new homes safely.
FAQ about Moving Internationally with Pets
Can you move abroad with pets?
Absolutely, but it takes careful planning. Look into pet relocation services and the regulations of your new country to make sure your furry friend can come along.
Ensure that vaccinations are complete, then choose a pet-friendly airline for safe travel.
http://www.macpackdubai.com/wp-content/uploads/2023/11/moving-internationally-with-pets.jpg
394
750
Clare McIntyre
http://www.macpackdubai.com/wp-content/uploads/2023/02/macpackdubai-logo.png
Clare McIntyre
2023-11-01 23:56:17
2023-11-02 00:05:18
Your Essential Guide: Moving Internationally with Pets