What is the difference between packers and movers?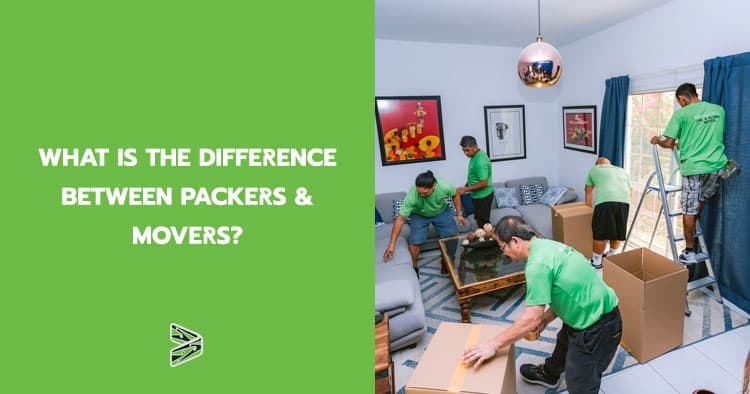 Imagine the buzz and clatter of moving day. Then picture this — two different teams swooping in to help. One team's task? Packers will wrap, box, and secure your cherished belongings carefully. Another crew leaps into action to haul these boxes from old home to new — they're called international movers.
But what sets them apart?
We've all been there: Standing amidst stacks of cardboard boxes and bubble wrap as we brace ourselves for an impending move. We know that some sort of help is needed, but which kind? And what's more – how do they differ?
If you ask these questions, I'd say you're at the right place!
We're about to explore the fascinating world of packing and moving services together.
Do packers and movers pack everything?
Do packers and movers handle everything? Yes. But let's dig a bit deeper.
Packers are like magicians of the moving world. They can turn chaos into neatly packed boxes. They wrap, secure, and box up household items efficiently. From fragile glassware to bulky furniture — they've got it covered.
Movers step in after the packing team has securely packed away the items.
Mac Pack Dubai, for example, takes pride in having expert teams that give these services seamlessly.
Professional movers and packers in Dubai handle most things, but there might still be some items you'd prefer to take care of such as valuable jewelry or important documents.
What is the difference between packers and movers?
The terms 'packers' and 'movers' often go hand in hand, but they play different roles. Packers are professionals who carefully wrap your belongings to ensure their safe transit.
They use quality packing materials like bubble wrap, packing peanuts, and sturdy boxes to protect your stuff from damage.
Movers, on the other hand, handle the heavy lifting of moving day. Their job starts once everything is packed up neatly by the packers. They load all items onto a truck or van before transporting them to your new home.
To give you an analogy: if moving were a concert tour – packers would be akin to roadies setting up equipment (your goods), while movers act as transport crew that gets it safely to each venue (new house).
Mac Pack Dubai, for example, offers both services separately so customers can choose based on their needs. An inventory list for a moving company is a list of all the client's belongings that are going to be relocated.
What is an inventory list when moving?
An inventory list, or moving checklist, is a document that helps you keep track of all your belongings during a move. It's like the shopping list for your home contents.
This detailed record lists every item in each room and their condition before the move. This allows the movers to be aware of what they're handling, but it can also assure you that all is accounted for.
A comprehensive moving inventory list pdf can include things such as furniture pieces, electronics, books, and even cutlery. If anything goes missing or gets damaged during transit, having this paper trail can make claiming insurance easier.
The good thing is that it lets you plan. For instance, deciding whether to sell old items or take them along becomes less stressful when there's an organized record at hand.
What is the role of movers and packers?
The roles of movers and packers are distinct, yet they work hand in hand to make your relocation smooth. Packers primarily take charge of wrapping your belongings safely. They use various packing materials like bubble wrap or foam sheets to protect items from damage.
Movers handle aspects related to transporting these packed goods. This includes loading them onto a truck at your old home and unloading them at your new location. It's not just about shifting boxes; it also involves navigating traffic rules and ensuring safe delivery.
A crucial part of their job is managing unforeseen issues that might pop up during the move, such as delays or damaged goods — an area where some packers and movers fall short.
To avoid mishaps such as packers and movers not delivering goods, hire reputable moving companies who can assure secure transportation. By doing so, you'll be able to focus more on settling into your new place instead of worrying about moving day chaos.
FAQs about "What is the Difference Between Packers and Movers?"
What is the role of movers and packers?
Movers and packers safely pack your belongings, move them from your old place to a new one, and then unpack them.
Do packers and movers pack everything?
Yes, they do. Packers will wrap up all items you want moved; nothing's off-limits unless it's hazardous or illegal.
Do packers and movers pack clothes?
Absolutely. They'll even take care of delicate clothing with packaging methods for maximum protection during transit.
Are packers worth it for moving?
Packers can save time and stress on moving day. It might cost more, but many find their service invaluable.
Conclusion
It's clear what sets apart the roles of packers and movers – they are crucial to ensure your relocation experience is as stress-free as possible.
http://www.macpackdubai.com/wp-content/uploads/2023/11/what-is-the-difference-between-packers-and-movers.jpg
394
750
Clare McIntyre
http://www.macpackdubai.com/wp-content/uploads/2023/02/macpackdubai-logo.png
Clare McIntyre
2023-11-01 23:52:10
2023-11-06 12:29:33
What is the difference between packers and movers?