What Do International Movers Do? Your Guide to Moving Abroad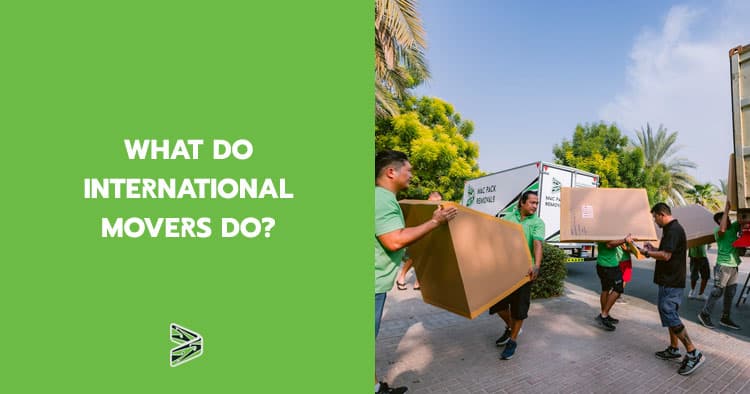 Imagine packing your life, every book, photo frame, and cherished mug into a shipping container. That's what an international move feels like.
Your heart pounds as you label each box; the reality of moving overseas hits hard. But then the frenzy slows down.
You realize that professional movers will handle everything from here on out.
That's where we come in — experienced international movers with all the answers to your questions about costs, processes, and even pet relocation!
We'll walk you through checklists for a smooth transition abroad so that you'll know what needs to be done before jetting off.
Strap in! It's time for an exciting journey. We guarantee that after reading this, the idea of moving will feel less intimidating.
Is international moving expensive?
Moving abroad can be costly, but the price tag varies. Several factors come into play, such as the distance of your move and how much stuff you're taking with you.
The cost of a shipping container for moving overseas is often a big chunk of your budget. Though it's not just the physical transport of your items, other costs such as packing materials, insurance, and possibly storage fees should be considered.
To save money on an international move:
Compare Quotes: Don't settle for the first quote. Examine the market to ensure you're obtaining a reasonable price.
Sell Unwanted Items: The less stuff you must ship over, the cheaper it'll be.
Pack Yourself: Packing services add extra costs, so, if possible, pack yourself.
Remember that every penny counts when planning such a life change.
What is the meaning of an international move?
An international move, or to move overseas, means more than just packing your belongings and setting off. Making a life-altering decision to venture into an unknown environment is the core of international moving.
This journey starts with deciding to live in another country, either for work, study, retirement, or even just for a change of scenery. But it doesn't stop there; it extends to planning every detail from securing legal documents such as visas and permits to shipping personal effects.
Moving internationally isn't solely about physical relocation. It also signifies embracing new cultures and customs while navigating language barriers. This can prove to be a difficult but also rewarding experience, providing chances for development and exploration.
Mac Pack Dubai understands this well — helping individuals navigate this complex process smoothly without unnecessary stress or hassle.
Can you move to another country?
Packin' up and takin' off isn't the only way to shift countries. You'll need to sort out various things before leaping.
The first step is understanding immigration laws. Each country has different rules, so make sure you're eligible to live there permanently. Do research about visa requirements on the UK Government's Immigration Page.
Next, consider your finances — do you have enough savings for initial expenses and emergencies? Also, healthcare, will you be covered in your new home, or do you need private insurance?
Moving internationally with pets
If moving with pets, additional prep work is needed because every country has its pet import regulations. To start right, check out the Royal Society for the Prevention of Cruelty to Animals or RSPCA.
Pets may also require quarantine upon arrival depending on the destination country's laws. Some countries might not allow certain breeds.
Finding a reliable international mover
Finally, find the best international movers in Dubai who can give professional advice and help streamline the process for peace of mind during this major life change.
How long does it take to prepare to move abroad?
Moving overseas isn't a snap decision, but more of an adventure that needs careful planning. How much time do you need? Typically, the answer is around three months.
Month 1: This period allows for ticking off tasks from your moving overseas checklist. These require attention, from securing visas and sorting out housing to organizing shipping or selling belongings.
Month 2: Declutter. Decide what's coming with you and organize a shipping container for moving items overseas if needed.
Month 3: Finalize details like shutting down utilities at home, arranging international health insurance coverage, and saying goodbyes.
Remember that every move is unique and that this timeline can change based on personal circumstances. For instance, moving internationally with pets could extend preparation time due to quarantine requirements.
FAQs about What Do International Movers Do?
How do international movers work?
International movers handle everything from packing your belongings and arranging transport overseas to managing customs clearance at your new location.
How do I prepare for an international move?
To be ready to move abroad, start by decluttering and sorting out visas. Then, hire reliable international movers and plan with a moving checklist.
What is considered an international move?
An international move refers to relocating residence across national borders — this could be next door or halfway around the world.
What is the purpose of a moving company?
Moving companies take the stress when changing homes. They pack up items securely, organize transportation, and ensure safe delivery.
http://www.macpackdubai.com/wp-content/uploads/2023/11/what-do-international-movers-do.jpg
394
750
Clare McIntyre
http://www.macpackdubai.com/wp-content/uploads/2023/02/macpackdubai-logo.png
Clare McIntyre
2023-11-01 23:57:18
2023-11-02 14:00:59
What Do International Movers Do? Your Guide to Moving Abroad