How much does moving cost in UAE?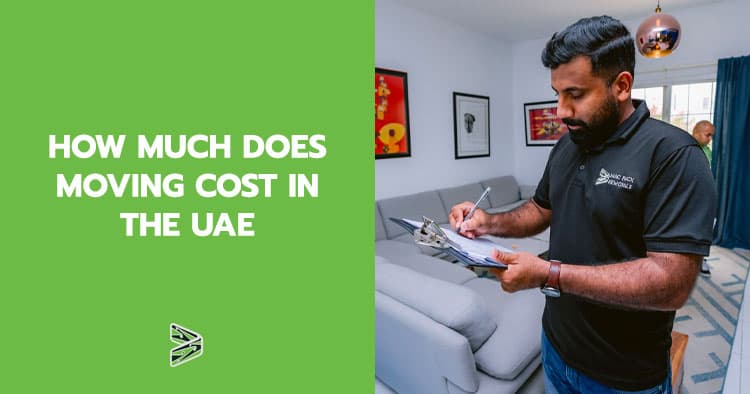 Have you ever experienced the joy of a fresh start, accompanied by the excitement of establishing yourself in unfamiliar surroundings? But along with that rush comes an all-too-real question – how much does moving cost in UAE?
The heart skips a beat as you picture stacks of boxes and packing materials lining your hallway. You see yourself bubble-wrapping items, and disassembling furniture like a handyman. The international movers truck pulls away from your old home in Dubai.
Your sweat trickles as heavy items are hauled, maneuvered through narrow corridors, and lifted to climb stairs. Or maybe it's not so bad – perhaps it's just shifting from one studio apartment to another on the same street!
Thinking about extra services like deep cleaning or pest control before moving out makes your eyes pop, doesn't it?
Understanding the Factors that Affect Moving Costs in UAE
Relocating a property is no mean feat, particularly with expenditure. In Dubai, prices typically start from AED 800 and can reach up to AED 5,000. What are these factors which affect moving costs?
How Size of Your Belongings Influences Moving Cost
The size of your belongings plays a role in determining moving costs. Larger homes or more possessions often mean higher costs due to increased labor and transportation needs.
If you're shifting from a one-bedroom apartment or a large villa with extra charges for heavy items like a grand piano, your bill will be higher.
The Impact of Distance on Moving Expenses
A longer journey also means additional charges. For instance, Dubai movers might have lower expenses compared to international moving.
Your bill could go higher if you need special packing materials for delicate furniture or personal belongings during long-distance moves.
While we understand everyone wants cost-effective options, not all cheap services give value for money.
Read customer reviews while making your decision about movers.
Opt for packers who use proper packing materials to ensure minimal damage during transit.
Exploring Different Types of Moving Services in UAE
Moving services in the UAE are diverse, with different service levels offered by providers. Transport solutions to full-service options that include packing and unpacking, furniture assembly, or disassembly have advantages.
The Role of Service Levels Provided by Movers
Moving companies often differ based on the level of help they give their customers. For instance, some movers may load your items onto a truck and drive them to your new home. These are typically cheaper but require you to pack your belongings.
On the other hand, trusted movers like Mac Pack Dubai, offer more comprehensive local moving services. They can provide special packing materials for delicate items such as grand pianos or heavy pieces needing extra care during transit.
Furniture assembly and disassembly is another valuable service many local moving service providers provide. This makes it easier if you're relocating larger homes where disassembling furniture could save significant space and make transportation smoother.
Key Stats:
When choosing between quotes from multiple companies, cost isn't everything; also consider the level of services provided.
Moving costs within Dubai usually range between AED 800 and AED 5k, depending upon size & distance, plus additional charges.
Tips:
To save on overall costs, declutter before moving.
Comparing quotes from multiple firms ensures competitive pricing and high-quality assistance throughout your relocation.
Tips to Save Money on Moving Expenses in the UAE
Relocating within bustling cities like Dubai or Abu Dhabi can be expensive. Cut your moving services costs with the right strategies and careful planning.
The Art of Decluttering Before Moving
Decluttering is a simple yet powerful strategy that many overlook when moving house. Remove unnecessary items before the move to reduce the volume and weight of your belongings. Less labor for movers equals lower charges.
If furniture assembly makes you nervous about damaging pieces during transit; most trusted movers in Dubai will dismantle furniture at pick-up and reassemble it upon delivery. This not only ensures guaranteed safety but also gives packers more room to work with, thus reducing costs.
Comparing Quotes for Cost Efficiency
Moving day can be overwhelming so doing comparison might seem like a chore. However, investing time could save significant money.
Local moving companies offer different price points based on their service levels – these include packing materials used (with unique packing materials costing more), workforce involved even down to whether stairs need climbing with heavy items.
Moving companies, including Mac Pack Dubai, provide a free quote. Compare quotes from multiple companies providing similar services to choose well and save hundreds of dirhams.
http://www.macpackdubai.com/wp-content/uploads/2023/11/how-much-does-moving-cost-in-uae.jpg
394
750
Clare McIntyre
http://www.macpackdubai.com/wp-content/uploads/2023/02/macpackdubai-logo.png
Clare McIntyre
2023-11-01 23:50:38
2023-11-01 23:50:38
How much does moving cost in UAE?