How Much Does it Cost to Move Furniture Internationally?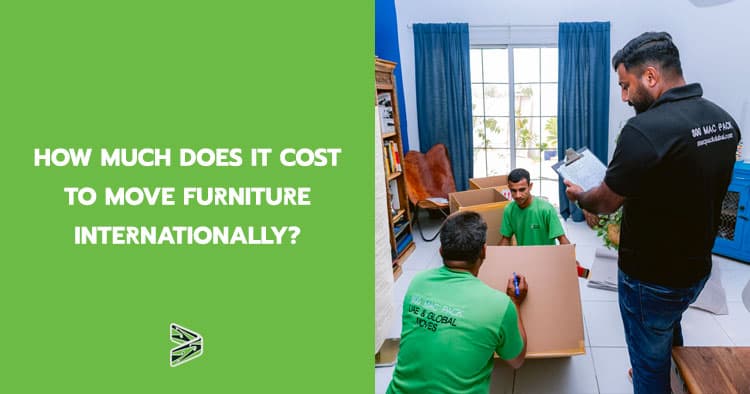 Imagine you're on a beach, toes in the sand, watching your belongings sail away to foreign lands. Sounds thrilling? But how much is this going to cost?
This isn't just any old trip down the road; it's an international move! Moving furniture across continents and oceans might sound like a huge task. There are several things to consider, from shipping personal belongings internationally to picking the right overseas moving company.
Can furniture really be shipped overseas? What's involved when you move all your stuff abroad? Is it even worth moving furniture internationally, or should you buy new ones at your destination?
We'll also share tips on how to find cheaper ways of shipping furniture abroad.
Can furniture be shipped overseas?
Yes, indeed. To ship personal belongings internationally is doable. Whether you're moving home or sending a gift abroad, your cherished pieces of furniture can journey across the seas with you.
Furniture shipping comes with its complexities. There are customs regulations and logistical challenges to consider. It's vital to have reliable help at hand. Moving companies like Mac Pack Dubai, which specializes in international removals, ensure these processes run smoothly.
Costs depend on various factors such as the size and weight of your items, where they're going, and how quickly they need to get there.
You might choose sea freight for bigger items — it's cheaper but slower than air freight.
Air freight gets things there faster but could be pricier, especially for bulky goods.
Tools such as the online international moving cost calculator give an accurate quote tailored to your needs.
How do you move all your stuff overseas?
Moving belongings internationally can seem daunting, but it's achievable with careful planning. Sort through what needs to be taken and left behind.
You may want to consider selling or donating items that are not essential or too costly to ship. For the possessions you decide to take, an overseas moving company, like Mac Pack Dubai, can be a great help.
Their team of professionals will pack your things safely and efficiently. They're trained in packing various items from delicate glassware to bulky furniture. Shipping costs depend on weight and volume so don't go overboard.
Finally, dealing with customs is another key aspect of international moves. Make sure you have the correct documentation for the country you're moving into because each one has different rules regarding imports.
Is it worth moving furniture abroad?
Moving your furniture overseas can be a big decision. You might love your cozy sofa or king-sized bed, but the cost of shipping furniture internationally may give you pause.
The choice often comes down to factors like sentimental value, replacement costs, and convenience. If an item holds special meaning for you, it could justify the expense of international shipping.
Mac Pack Dubai's online quotation form is a handy tool that gives users an estimate of what their move might cost.
But cheap isn't always the best when considering international furniture shipping companies. It's crucial to ensure quality service to avoid damage during transit.
Sometimes, selling bulky items and buying new ones at your destination can be more economical.
Other times, professional packing and shipping services are invaluable in safeguarding cherished possessions against potential harm during travel.
A well-planned approach will help ease this complex process.
This makes "Is it worth moving furniture abroad?" a question with no one-size-fits-all answer — everyone's situation is unique.
What is the cheapest way to send furniture overseas?
Finding a cost-effective method to ship your beloved items abroad can be daunting. One could consider selling and repurchasing, but there's always that piece you can't part with.
The first step is getting an accurate estimate of costs. Tools like the International Moving Cost Calculator give you a rough idea about potential expenses based on your location, destination, and volume of goods.
Avoid Air Freight
Sending furniture via air freight might seem appealing due to its speediness; however, it's typically the most expensive option. Sea shipping is more economical unless time is critical or items are small and lightweight.
LCL Shipping – Sharing Space Saves Money
If you're not filling up an entire container with your belongings, Less than Container Load (LCL) shipping allows multiple customers' goods to share space within one container — cutting down individual costs considerably.
Self-Pack: A DIY Approach
To save more cash when moving internationally, packing yourself instead of hiring professionals can significantly reduce overall expenditure — make sure you've got materials at hand for proper protection.
FAQs about "How Much Does It Cost to Move Furniture Internationally?"
Can I move my furniture to another country?
Yes. International moving companies specialize in shipping personal belongings overseas, including your furniture.
What is the cheapest way to move items overseas?
The most cost-effective method typically involves consolidating your shipment with others or choosing sea freight over air transport.
How much does relocation cost internationally?
Average international relocation costs vary greatly but could range from £1,000 to £10,000 depending on distance and volume of goods.
How much does it cost to ship household goods?
The shipping costs for household goods depend on weight, size, and destination. It might be anywhere between a few hundred pounds to several thousand pounds.
http://www.macpackdubai.com/wp-content/uploads/2023/11/how-much-does-it-cost-to-move-furniture-internationally.jpg
394
750
Clare McIntyre
http://www.macpackdubai.com/wp-content/uploads/2023/02/macpackdubai-logo.png
Clare McIntyre
2023-11-01 23:51:47
2023-11-01 23:51:47
How Much Does it Cost to Move Furniture Internationally?