How much does it cost to move a 3 bedroom house in Dubai?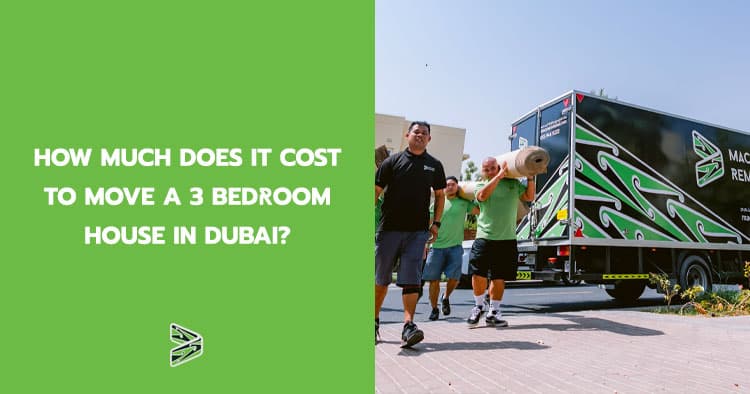 Have you ever found yourself in the heart of a bustling city like Dubai, amazed by its towering buildings and sparkling lights, but all you can think about is the financial impact of moving your cozy 3-bedroom house there?
We're talking moving costs and what takes to shift a full-fledged 3-bedroom home in the heart of one of the world's most luxurious cities: Dubai.
From professional movers and packers in Dubai juggling your precious China plates like circus performers; navigating international movers when trading suburban calm for metropolitan buzz; to wrestling with bulky furniture as stubborn as camels — every penny counts!
But we can't overlook that elusive 'Ejari'. It's a factor to bear in mind when undergoing this procedure.
How much do movers cost in the UAE?
If you're planning a move within the UAE, you might be asking how much it'll set you back. It depends. Many factors influence moving costs.
Bayut's Cost of Living Guide gives us some insight. It states that prices can range from AED 1,500 to over AED 6,000 for professional services. But why a big range? Let's look at what might be behind this broad price range.
The size of your home: The more rooms and furniture to shift, the higher the fee.
Packing service: If you need help packing up your belongings before they're moved, expect an extra charge.
Distance traveled: Moving across town could be cheaper than relocating between emirates.
This information will provide you with a better understanding when budgeting for your move. However, it's important to remember that while opting for cheaper options may save you money initially, choosing high-quality movers will ultimately bring long-term peace of mind.
How much does it cost to move to a villa in Dubai?
Moving a villa is not just about packing boxes but also managing logistics and coordinating with the villa movers in Dubai.
Costs can vary based on several factors. For instance, the size of your villa, distance to the new location, and services you need play roles. On average, moving a standard 3-bedroom villa might set you back between AED 1,500 to AED 4,000.
The bigger your place or the more stuff you have could raise that figure.
If items like antiques or pianos need special handling, this will increase costs, too.
You'll pay extra for premium services such as professional packing help or furniture disassembly and reassembly at the new place.
It's crucial to get free quotes from multiple companies before deciding because prices differ significantly amongst providers. Make sure these estimates include everything so there won't be hidden fees later.
How much does it cost to move to a 3 bedroom house?
The cost of moving to a 3-bedroom house in Dubai varies. It depends on factors like the volume of goods, distance, and if you need packing services.
Mac Pack Dubai, one of the top furniture movers in Dubai, provides competitive pricing. The price can range from AED 1,500 to AED 4,000 for local moves within city limits.
Packing your belongings is often more time-consuming than expected. Professional packers make sure everything arrives safely at your new home. This service usually adds around AED 300 – AED 700 to your bill.
Finding Cost-Effective Movers
Do your research beforehand to secure the best deal when moving homes in Dubai. Don't settle for the initial quote you receive, but instead ask around and compare prices. Moving houses doesn't have to empty your bank account. With careful planning and a strategic approach, you can save money on your relocation.
Can you move in without Ejari?
An Ejari contract is needed to make sure your rental agreement has legal standing. This isn't just a piece of paper but your key to peace of mind when renting in Dubai.
What if you don't get an NOC from landlord for moving out of Dubai? Once more, this could potentially cause issues later. You need a No Objection Certificate (NOC) from your old landlord before making the move.
Ejari — A Must-Have for Renters
The Ejari system gives tenants rights and protection under Dubai's real estate laws. Skipping it would be like driving without insurance: risky and potentially costly.
NOC From Landlord – Don't Leave Without It
A NOC lets everyone know that there are no outstanding payments or disputes as you leave your current property behind.
FAQs about "How Much Does It Cost to Move a 3-Bedroom House in Dubai?"
How much does it cost to move to a house in Dubai?
Moving costs in Dubai vary widely, but you can expect around AED 1,500 to AED 6,000 for professional services.
How much do movers charge in Dubai?
Local moving companies might ask between AED 200 and AED 400 per hour. The price fluctuates based on factors like the size of your home or distance moved.
How much does it cost to move to a 1-bedroom apartment in Dubai?
Average charges for shifting a one-bedroom flat are usually from AED 800 to AED 2,500.
How much does it cost to move furniture in Dubai?
Typically, the rate for moving furniture ranges from about AED150 per item upwards, depending on the size and complexity of the job.
http://www.macpackdubai.com/wp-content/uploads/2023/11/how-much-does-it-cost-to-move-a-3-bedroom-house-in-dubai.jpg
394
750
Clare McIntyre
http://www.macpackdubai.com/wp-content/uploads/2023/02/macpackdubai-logo.png
Clare McIntyre
2023-11-01 23:53:56
2023-11-01 23:54:08
How much does it cost to move a 3 bedroom house in Dubai?