How Do I Choose A Moving Company?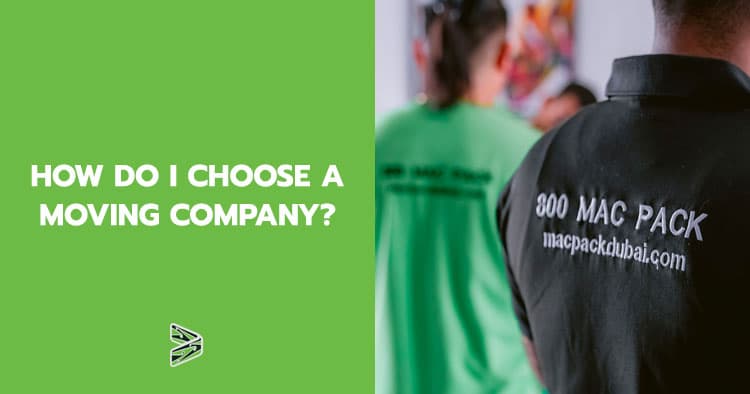 Imagine standing in a room surrounded by all your possessions, and the prospect of transporting them to another location becomes overwhelming — until help arrives in the form of a professional moving company.
Selecting international removal companies can appear simple, but there are numerous factors to consider that may not be immediately apparent.
Here are insights that'll help you understand why using top-tier international movers makes sense, knowing how much they might charge per hour, or calculating costs in different parts of the world like the UAE.
What is the advantage of a moving company?
Some of the best moving companies, particularly the best movers in Dubai, offer key advantages when you're moving home. First, they give peace of mind. Moving can be stressful but these pros handle everything from packing to transport.
A reliable moving company like Mac Pack Dubai ensures your items reach their destination safely and sound.
The second major advantage is efficiency. Trained staff and specialized equipment make it possible for moving companies to complete tasks in a shorter amount of time than if done independently.
They use smart techniques for loading and unloading furniture safely,
Pack items securely to prevent damage,
And manage time effectively so that tasks are completed promptly.
This means less disruption and no need to take days off work or disrupt family routines because professionals have got it covered. So, when moving house, hiring a good mover isn't an expense; instead, it's an investment in stress-free relocation.
How do I choose an international moving company?
Choosing the right long-distance movers can seem like a mammoth task.
Make sure potential companies are accredited by IAM or FIDI, the global alliance of professional international moving and relocation companies, to ensure they meet certain standards of quality and service.
Critical Questions to Ask Moving Companies
Ask how much experience they have with your destination country. What's in their quote? Do they offer insurance for your belongings during transit?
Beware of Low Quotes
Beware of low quotes that seem too good to be true. They may not include essential services or could indicate substandard service levels.
Ratings and Reviews Matter
Finally, check out online reviews on platforms like TrustPilot. Past customers' experiences can give invaluable insights into how these companies operate during crunch time.
How much do movers cost in the UAE?
Moving house is a big task, and the price can vary widely. The moving company's costs are often influenced by factors like distance, time of year, and size of your move.
A simple local shift could be as low as AED 1,000 while an international relocation might reach up to AED 15,000 or more. These prices are rough estimates.
Use a Moving Company Cost Calculator
To get a precise idea about what you'll need to budget for your move to UAE, use an online moving cost calculator. It considers everything from packing materials to the workforce.
The calculator also ensures there are no unexpected charges when settling the bill.
What do most movers charge per hour?
Finding a professional moving company that fits your budget can be tricky. Costs may differ contingent upon elements, for example, area, the size of the move, and how much time is needed.
On average, you may anticipate a two-man team to cost between £50-£75 per hour for loading, transport, and unloading. This typically includes loading, transport, and unloading. But this is just an average — actual costs may differ.
Some companies, particularly those offering more comprehensive services or specializing in long-distance moves, could have higher rates.
For the best idea of what you'll need to pay, request quotes from multiple companies and ensure they include potential fees to avoid surprises.
Consider any extra charges like fuel or overtime if your move takes longer than expected.
The key is to find a balance between cost and quality service – cheaper isn't always better.
FAQs about "How Do I Choose a Moving Company?"
How do I choose a local mover?
Pick a local mover based on their reputation, service quality, and cost. Find online reviews and ask for recommendations from friends or family.
What should be the qualities of a moving company?
A good moving company should have reliability, experience, insurance coverage, transparent pricing, and positive customer feedback. They must also handle your belongings with care.
Why choose professional movers?
Professional movers offer expertise in packing delicate items securely. They ensure swift transportation which saves time and stress during relocation.
What is the best moving company for long distance?
The best long-distance moving companies provide safe transit options across countries while offering comprehensive services like customs clearance assistance.
Conclusion
Selecting a moving company involves understanding what to look for and asking the right questions.
Consider their reputation, range of services provided, and experience in international relocations if necessary.
While affordability is important, quality should not be compromised.
http://www.macpackdubai.com/wp-content/uploads/2023/11/how-do-i-choose-a-moving-company.jpg
394
750
Clare McIntyre
http://www.macpackdubai.com/wp-content/uploads/2023/02/macpackdubai-logo.png
Clare McIntyre
2023-11-01 23:55:45
2023-11-06 12:05:28
How Do I Choose A Moving Company?