Do You Tip Movers in Dubai?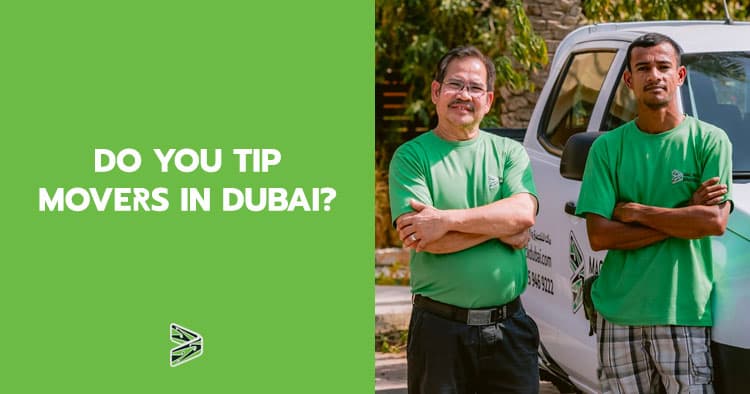 You're in the bustling city of Dubai, and your flat is a mess of boxes and packing tape. It's moving day! A crew from one of those professional moving companies arrives to help you with the heavy load. But then comes that tricky question — do you tip movers in Dubai?
A twinge of doubt tugs at your conscience as they heave furniture down flights of stairs, sweat on their brows under the scorching sun. Should I offer them more than just a cold drink? Is it rude not to tip movers?
This isn't just about etiquette; it's also about cultural understanding and appreciation for hard work done well.
We'll delve into what a suitable tip might be, how the tipping culture generally operates in the UAE, and pinpoint when would be the best time to tip your international movers.
Should you feed and tip movers?
Tipping is a well-established practice in many service industries, but when it comes to moving house in Dubai, should you tip your movers? The answer is yes. While not mandatory, it's certainly appreciated by the hard-working folks who help make your move as smooth as possible.
How much to tip can be tricky. A common guideline suggests around 10-20% of the total bill split among the crew or AED 100 per mover for an all-day job (The National).
As for feeding them, this isn't expected but offering refreshments such as water or soft drinks during a long move could go a long way towards showing appreciation for their efforts.
The Power of Gratitude
Moving home can be stressful and exhausting work — especially in Dubai. Tipping and providing refreshments are simple ways to show gratitude.
If they've done a good job and worked tirelessly to ensure everything went smoothly – why not give them something extra on top of their usual pay? It'll make sure they feel valued which leads to better services overall.
Is it bad if I don't tip movers?
In the hustle and bustle of moving, one question that often pops up is: 'Is it rude not to tip movers?' While tipping isn't mandatory in Dubai, it's nice to show your appreciation.
Good service deserves recognition. If your movers have gone above and beyond — perhaps they've taken extra care with fragile items or managed a tricky move — then showing your gratitude via a small cash bonus can mean more.
ExpatWoman's guide on Tipping, provides some helpful insights into the customary practices in Dubai. Skipping out on tips won't land you in any legal trouble, consider how much easier these professionals made an otherwise stressful day. In many cases, you'll find they've earned every dirham.
What is an appropriate tip for professional movers?
Tipping, a common practice in many service industries, often leaves people scratching their heads when it comes to moving services. But just like with your barista or hairdresser, tipping the best movers in Dubai is a way of showing appreciation for their hard work.
In Dubai and the wider UAE region, there's no set rule about how much to tip movers. Some might choose not to give anything extra at all. However, if you feel the team has done an excellent job and want to express gratitude, a monetary gesture for a good service can be fitting.
What is a good tip in UAE? A good starting point could be 10% of the total bill per mover. Factors such as the complexity of the move (did they have to navigate narrow staircases with heavy furniture?), duration of service provided (ExpatWoman suggests this consideration), and weather conditions (moving in Dubai's summer heat deserve recognition) among others, should guide your decision on what is a good tip.
Do you tip movers when they load or unload? Yes, and this could motivate them even more throughout their day.
FAQs about "Do You Tip Movers in Dubai?"
Should I tip the driver in Dubai?
Generally, tipping drivers in Dubai isn't a must. But if you fancy their service and want to give them a nod, feel free.
Is it proper etiquette to tip movers?
Absolutely. Tipping your movers is not mandatory but it's an excellent way to show appreciation for their hard work.
Conclusion
Tipping or not ultimately depends on your personal judgment and cultural understanding. Appreciation can also be shown through gestures like offering refreshments during breaks.
If you decide to give a gratuity, timing matters! It's often best at the end when all tasks are completed satisfactorily.
http://www.macpackdubai.com/wp-content/uploads/2023/11/do-you-tip-movers-in-dubai.jpg
394
750
Clare McIntyre
http://www.macpackdubai.com/wp-content/uploads/2023/02/macpackdubai-logo.png
Clare McIntyre
2023-11-01 23:54:32
2023-11-06 12:12:49
Do You Tip Movers in Dubai?