Are There Companies That Help You Move To Another Country?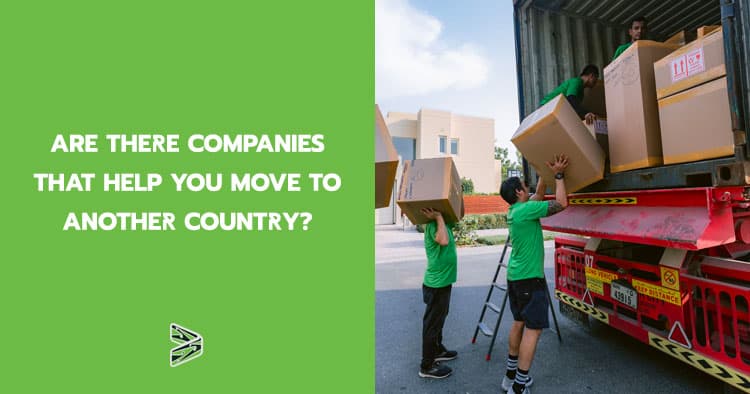 Ever fancied living the expat life? Imagine waking up to tall buildings, ports, or the beach in the UAE. Relocating overseas is not merely a case of grabbing your possessions and obtaining an open-ended ticket; it's about taking on an entirely different lifestyle.
But let's be honest, the thought of moving everything you own across oceans can be daunting. It isn't as simple as stuffing all into your trusty suitcase and hopping onto the next flight out. Wouldn't it be great if there were businesses that could aid you with relocating to another nation?
Navigate the moving process smoothly by finding the right job, understanding the relocation package, and securing comfortable housing. With our guidance, we'll show you that international movers and packers can make the move less stressful and more exciting.
What is international relocation?
International relocation is shifting from one nation to another, usually for occupational or individual reasons. Moving abroad can be a challenging endeavor, requiring more than just packing your bags and leaving.
You need to think about logistics like housing, transport, customs clearance, and sometimes even language barriers. But don't worry. There are companies out there that specialize in this very thing – international relocation companies.
These moving companies help take care of everything from paperwork to transportation so you can focus on settling into your new home abroad. They give practical advice based on years of experience assisting people with their moves globally.
Moving overseas requires careful planning and organization.
Relocation companies offer expertise in handling these challenges.
Their services allow for an easier transition when making such a big life change.
Bear in mind that not all moving situations are alike; hence choosing the right company for your needs is crucial.
Are there companies that help you move abroad?
Moving across borders can feel like a massive task. There are moving companies that will help you with your big move.
Mac Pack Removals offers comprehensive services. From packing up your belongings safely and securely, navigating complex customs procedures, right through to getting everything unpacked at your new home.
The good news doesn't stop here though; some jobs that pay for relocation and housing. Companies such as Shell or Netflix have been known to foot the bill when moving their employees internationally.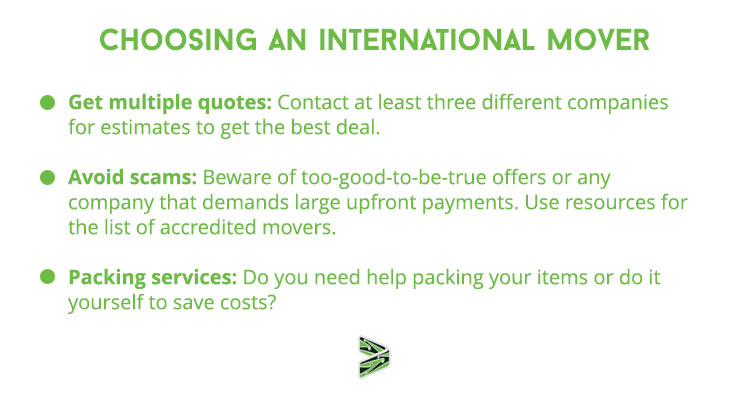 How do I choose an international mover?
Selecting an appropriate international mover can be challenging, yet it doesn't need to be. The first step is research. Look for the best international moving companies. Read reviews and compare services.
Consider cost, transit time, and customer service reputation. A good moving company should offer transparent pricing with no hidden fees.
Get multiple quotes: Contact at least three different companies for estimates to get the best deal.
Avoid scams: Beware of too-good-to-be-true offers or any company that demands large upfront payments. Use resources for the list of accredited movers.
Packing services: Do you need help packing your items or do it yourself to save costs?
Finally, trust your gut feeling. If something feels off about a company, don't hesitate to look elsewhere until you find one that makes your move manageable and stress-free.
What is the best affordable international moving company?
For an optimal relocation experience without breaking the bank, research and compare quotes to ensure you get service at a competitive price. It's all about balance – getting service at an attractive price.
The International Association of Movers (IAM) suggests comparing multiple quotes and checking reviews from past customers. But remember, cheap doesn't always mean good quality.
Picking Your Affordable International Moving Company
A key aspect of finding top relocation companies is understanding what you need. Is packing included? Do they handle customs paperwork? Make sure they give everything you ask for in writing.
Quotes: Get at least three different estimates for comparison.
Credentials: Check if the movers are members of reputable international moving associations that ensure high standards.
Ratings & Reviews: Research previous customer experiences through sites like TrustPilot or Google Reviews.
This groundwork will help ensure you choose when selecting an affordable yet reliable overseas mover, without compromising on service quality.
FAQs about "Companies That Help You Move to Another Country"
Who can help me move countries?
Mac Pack Removals in Dubai are experts in assisting those who shift overseas.
What is the best way to move to another country?
Picking a reputable mover is key. They'll handle logistics and paperwork.
What is the cheapest way to move your stuff to another country?
Selling what you don't need, then shipping essentials by sea freight tends to be cheaper than air transport.
How can I move abroad?
You'll need an actionable plan: secure visas or permits and find housing and work options abroad before leaping.
Conclusion
When choosing an international mover, consider their experience and customer reviews to ensure they'll meet your needs efficiently.
There are international moving companies like Mac Pack Removals that can help you move to another country and lighten your load by managing the logistics of moving abroad.
http://www.macpackdubai.com/wp-content/uploads/2023/11/are-there-companies-that-help-you-move-to-another-country.jpg
394
750
Clare McIntyre
http://www.macpackdubai.com/wp-content/uploads/2023/02/macpackdubai-logo.png
Clare McIntyre
2023-11-01 11:00:49
2023-11-06 13:35:10
Are There Companies That Help You Move To Another Country?