Are There Companies That Help You Move Abroad? Find Out!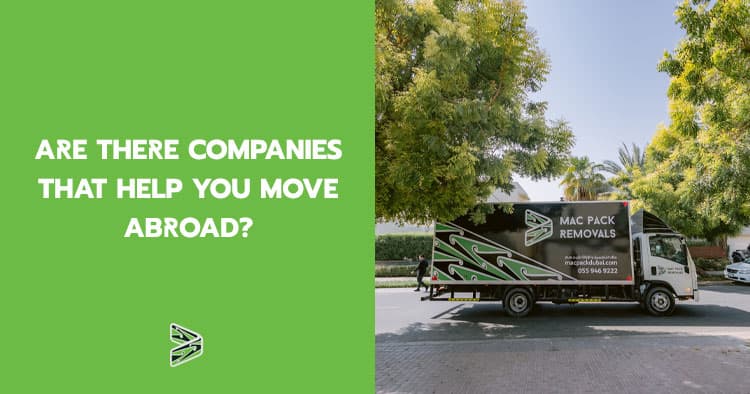 Have you dreamt of packing your bags and starting fresh in a new country? The idea is thrilling, isn't it? But when reality kicks in, you realize that moving abroad isn't just about the adventure. It's also about paperwork, logistics, and some hefty lifting.
Fear not! Imagine if someone could take this weight off your shoulders. An angel to navigate through customs or pack up all your precious possessions?
The good news is — such saviors exist! Yes, you can find international movers to assist you throughout your journey to unfamiliar places.
In this piece, we'll explore how some of the best international movers in Dubai can help make your dreams come true with minimal fuss. We'll dive into what these services entail and even give you pointers on choosing the best one for your needs!
Can you hire someone to help you move to another country?
There are plenty of international relocation companies in Dubai ready to give a helping hand. But it's not just about packing and shipping your belongings.
They'll take on the entire job, from packing and shipping to dealing with customs or arranging temporary storage. These might include managing customs clearance or even arranging temporary storage if needed.
The process is often more challenging than local moves due to factors like distance, different laws, and potential language barriers. So, choosing an experienced mover can make sure everything runs smoothly.
Mac Pack Dubai, for example, offers comprehensive services tailored towards making your international move as stress-free as possible.
Their team assists with every step from initial planning to settling into your new home abroad. This includes professional packing services using high-quality materials designed specifically for long-distance transportation safety concerns.
What is international relocation?
Moving from one country to another is referred to as international relocation. This can be a daunting task, but there are international relocation companies out there that make this transition smoother.
You might need help with packing, shipping your belongings, or even finding accommodation at your destination. Some also give support on visa and immigration issues.
A good international mover takes care of all these aspects. They coordinate every step, making sure nothing falls through the cracks during your move abroad. So you're free to focus more on adapting to your new environment instead of worrying about logistics.
This complex process needs careful planning and execution. To ensure you make the right decision, it's advisable to investigate potential companies by consulting online reviews and seeking advice from those who have already experienced an international move. Check reviews online and ask friends or family who have moved internationally before.
How do I choose an international mover?
Moving abroad is a leap, but the best international moving company can make it less daunting. So, how do you pick one? First off, ask for recommendations. Word of mouth from friends or family who've moved overseas before can be golden.
Once you have some names in mind, check their reputation online.
You need to ensure that they're accredited by relevant bodies, too. For instance, look out for membership with FIDI (The International Federation of International Movers). This ensures high standards are met during your move.
Dig into their services — packing, customs clearance, and unpacking at your destination are must-haves.
Finally, get multiple quotes to know what's fair price-wise; remember that cheaper isn't always better when quality matters this much.
In essence, research thoroughly. Your worldly goods deserve top-notch care on their journey to your new home country.
What is the best way to move to another country?
It's not just about packing your bags and booking a flight, but it involves more detailed planning.
The first thing you need to do is research. Gain knowledge of the rules, regulations, and way of life in your new destination.
You'll also want to start learning the local language if it's different from yours. Apps such as Duolingo make this task less daunting.
Hiring an overseas moving company
To take some stress off your shoulders during this exciting time, consider hiring an overseas moving company that has experience in international relocations — they will handle everything from packing up your stuff to dealing with customs paperwork at both ends of your journey.
Saving money on the move
Moving abroad can be costly so look for ways to save money. Selling items that are expensive or difficult to transport before leaving might help reduce costs and declutter at once.
FAQs about "Are There Companies That Help You Move Abroad?"
Can you hire someone to help you move abroad?
Definitely. Many international moving companies offer full-service relocations overseas including packing, shipping, and settling-in services for a hassle-free moving process.
Who is the best international moving company?
The 'best' varies by needs. Make sure they're reliable, reputable, and fit your requirements.
Where do I start if I want to move abroad?
To kick off an international move, research potential destinations first then connect with expert movers who can guide you through the process smoothly.
Conclusion
There are companies that help you move abroad and take the stress out of international relocation by handling paperwork and logistics and ensuring that your treasured belongings arrive safely.
http://www.macpackdubai.com/wp-content/uploads/2023/11/are-there-companies-that-help-you-move-abroad.jpg
394
750
Clare McIntyre
http://www.macpackdubai.com/wp-content/uploads/2023/02/macpackdubai-logo.png
Clare McIntyre
2023-11-01 23:56:51
2023-11-02 00:03:55
Are There Companies That Help You Move Abroad? Find Out!